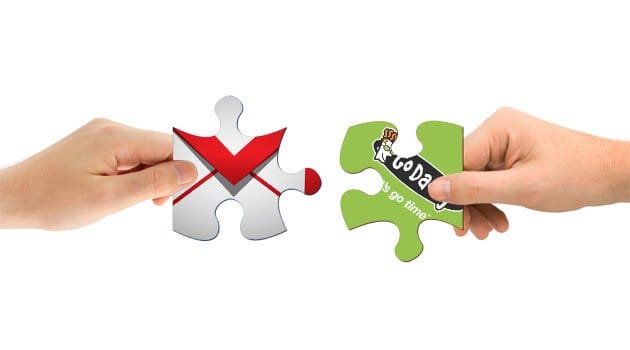 There are a few different guides on linking your GoDaddy account with Gmail already around, but I always found them lacking to one degree or another. Here is a comprehensive guide on linking your GoDaddy email account with your Gmail account, so that you can send and receive email from your GoDaddy account via your Gmail account.
Note: This article is reblogged with permission from BaseLayer Digital Marketing: https://baselayer.ca/how-to/how-to-send-and-receive-godaddy-email-from-gmail/

Update: April 29, 2015
"535 Authentication Failed" error – A solution
If you go through these instructions and are getting a '535 Error: Authentication Failed' message, janeOc from the comments posted a solution from GoDaddy tech support that seems to be solving the problem:
Log into your GoDaddy account
Go to Email Control Center (Wordspace control center)
Search for the email address. Look at the Relays column. It is probably blank. It needs to be reset.
Click on the email account to edit it.
Set the 'SMTP Relays per day' to 0 and then Save
Set the 'SMTP Relays per day' back to 250 and then Save
Wait 30 minutes.
Go back to your Gmail > Settings > Accounts and Import section of Settings, look at the "Send Mail As" section and click "Add another email address that you own." It should then work.
*We are not affiliated with either Google or GoDaddy, although we use both companies' products.
Receiving Email
Log into your Gmail account.
Click on the gear at the top right, and then on Settings.
Click on Accounts and Import.
In the "Check email from other accounts" section, click "Add a POP3 account that you own."
A window will pop up. Type the email address you want to add, then click "Next Step." In case it is not obvious, do not enter "bobfrog@sparqstreet.com" in this step or any other step. Enter the email address you are linking to your Gmail account.  
Fill in the fields on the next page as you see them here.

Your username is your FULL email address, including the domain (the part after the @ symbol)
The POP server is "pop.secureserver.net"

Important: If you're using cPanel email, user the POP server "p3plcpnl0923.prod.phx3.secureserver.net".

Use port 995.
Make sure "Leave a copy of retrieved message on the server" is UNCHECKED. If you forget to do this, you will have to manually empty your GoDaddy email account on a regular basis manually or else it will fill up.
Check the "Always use SSL" box.
You should check the "Label incoming message" box so you can easily identify which emails are coming from that address.
Leave "Archive incoming messages" UNCHECKED, unless you have a good reason not to.
Click "Add Account."

Sending Email

Back on the Accounts and Import section of Settings, look at the "Send Mail As" section and click "Add another email address that you own."
Enter your name and email address. 

Ticking the "Treat as an alias" box tells Gmail that this address represents You, and not, say, your boss. Although some people have suggested unchecking this box because it can result in undesired behaviour, I've always left it checked and never had any problems.

Fill out these fields as you see here. Of course, use your own email address in place of "bobfrog@sparqstreet." 

SMTP server is "smtpout.secureserver.net."

Important: If you are using cPanel email, the SMTP server will be "p3plcpnl0923.prod.phx3.secureserver.net".
Update: If you reside in Asia or Europe, Workspace email server names (not cPanel) will be smtpout.asia.secureserver.net and smtpout.europe.secureserver.net respectively.

User name is your ENTIRE email address. That includes your domain name (the part after the @ symbol).
Use port 465.
Use Secured connection using SSL.
Click Add Account.

You should receive an email confirmation to ensure that you actually do own the email address you're adding. It'll go to your new (GoDaddy) email address – that's why we made sure we can receive email from this account before we set up Sending. Follow the instructions to authenticate your account – it should be as simple as clicking a link.
BONUS
Gmail only checks your GoDaddy account every hour or so… maybe longer. For some, this is no big deal. For others, a 1-2 hour delay in being notified of new email is unacceptable. If this is the case for you, here's a solution.
Log into your GoDaddy email center (Wordspace Control Center).

If you're using cPanel email, you won't have this option. You'll have to set up an email forwarder instead, which I won't get into here.

Click on the email account you'd like to change.
Tick the "Send copy to" and enter your Gmail address, then click save. This will automatically forward any incoming mail to your Gmail account as it arrives. Don't worry, when Gmail actually checks your account, you won't wind up with duplicates. It'll just clear your GoDaddy inbox.
That's it! Hope this helps.
https://frontdoorpr.com/wp-content/uploads/2015/01/gmail-godaddy.jpg
350
630
Mike Davidson
https://frontdoorpr.com/wp-content/uploads/2016/11/logo-frontdoorpr.png
Mike Davidson
2015-01-13 17:47:17
2019-04-10 13:37:24
How to Send and Receive GoDaddy Email From Gmail